Nowadays, we find the use of 3D printing software everywhere. For instance, Boeing is already planning to build an entire airplane using 3D printing technology. Besides that, medical experts create artificial organs and prosthetics for individuals that need transplants at a relatively low cost. According to Forbes, 93% of organizations that use 3D printing say that it helps save them time in marketing, production, and many other areas of the business.
Since 3D printing is currently revolutionizing many industries, there's an enormous demand for the software required to print 3D models. Most people know of Simplify3D and Cura because they're the most commonly used, but there are many other programs that can also create 3D parts for printing. Below, I'll go through the options you have regarding the best 3D printing software available today.
Some of these programs are used to design and to slice, while others only do one of the two. A slicer is software that tells the printer what to print and how to print it. Examples are Cura and Simplify3D. To print something, you'll first need to pick up some 3D printing software. Some of this software is free and some have a price tag attached.
If you are just getting into 3D printing, there's no need to spend thousands of dollars on software. Our list below gives you an overview of some free options. However, for those of you that don't mind paying a fee, I've included some premium options as well.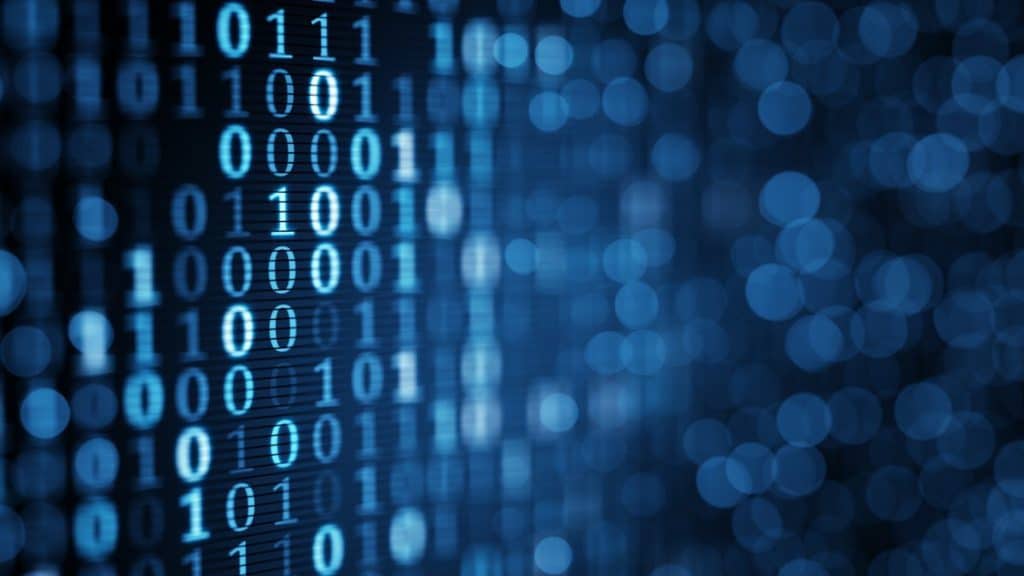 Tinkercad
One of the best 3D printer software options out there, Tinkercad is a free software option that's great for newbies. This software is easy-to-use so that even beginners and children can create their 3D models. Tinkercad will also teach you about solid modeling, which you can build from later if you want to create more complex objects at a later date.
Tinkercad has some significant features, including:
Browser-based and also works as an app.
You'll get an easy-to-understand building block concept that helps you envision what you're building. You can create your product using basic shapes, which provides a straightforward introduction into the world of 3D designing.
Excellent tutorials that will help take you from a novice to an expert quickly.
A library that has millions of files in it. You can use those shapes and manipulate them if you need to when creating your design.
Integration with third-party printing to make the printing process much easier.
If you're just starting to learn about 3D printing, Tinkercad is the software you should use because it's easy to export files, share things, and learn about design basics. Here is a video a made covering the basics.
SketchUp
SketchUp is another excellent free option for 3D modelling. It's a powerful program that works well for novices and advanced users alike. Much like Tinkercad, SketchUp provides an easy way to learn and create 3D objects.
If you are looking to get started quickly, you can use SketchUp's 3D Warehouse, where you'll find plenty of pre-made models. But the Warehouse is only available to the paid versions of Sketchup.
There are also special pricing structures for teachers to make 3D printing more accessible in the classroom. If you enjoy using SketchUp's free version, then you can pay for its pro version, which will open up new possibilities and tools to dive deeper into your new hobby.
Ultimaker Cura
Ultimaker is a 3D printer brand that released their slicing software as an open source program so that anyone can make alterations to the code. Through many years of tweaking, Cura has become the most popular choice of 3D printing software for personal use.
Cura is a slicer that works very well with many 3D printers, and that's one reason this software is so popular. It's beginner-friendly and features a recommended mode for individuals that are new to 3D printing.
By starting with Cura's recommended mode, you'll be able to start designing and printing in no time. As you hone your skills, you'll notice how easy it is to create your designs with this software. As you become more tuned-into this software, you can swap modes and learn how to customize your products using the custom mode feature.
Ultimaker Cura's learning curve is minor, and most people that start using this software make products for their 3D printers relatively quickly. Since you can add custom objects using this software, you can also start with their extensive library and customize some objects.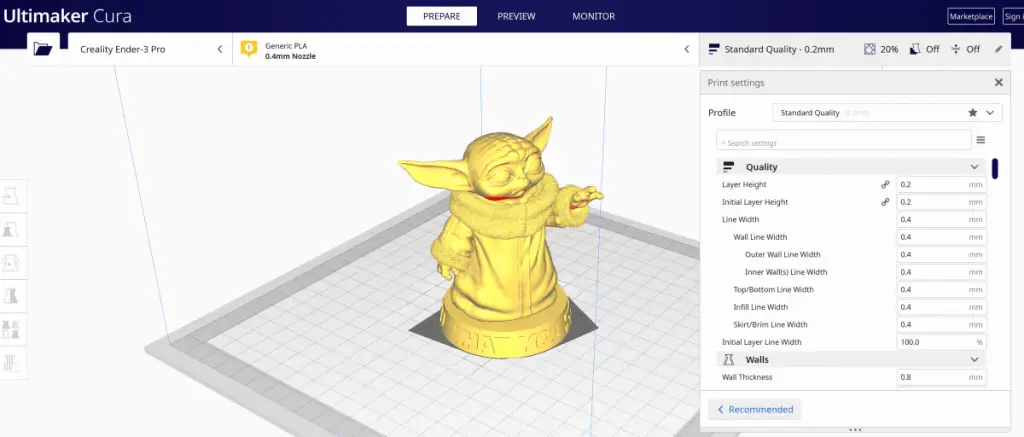 Simplify3D
Simplify3D was created back in 2013 when there weren't many 3D printing software options available. It was one of the best splicers until around 2017 to 2018. That's when Cura started making drastic improvements to their software to match up and even outperform Simplify3D.
Having said that, Simplify3D is still a very efficient and easy-to-use piece of software. The support from the company is very good which is to be expected from a paid service.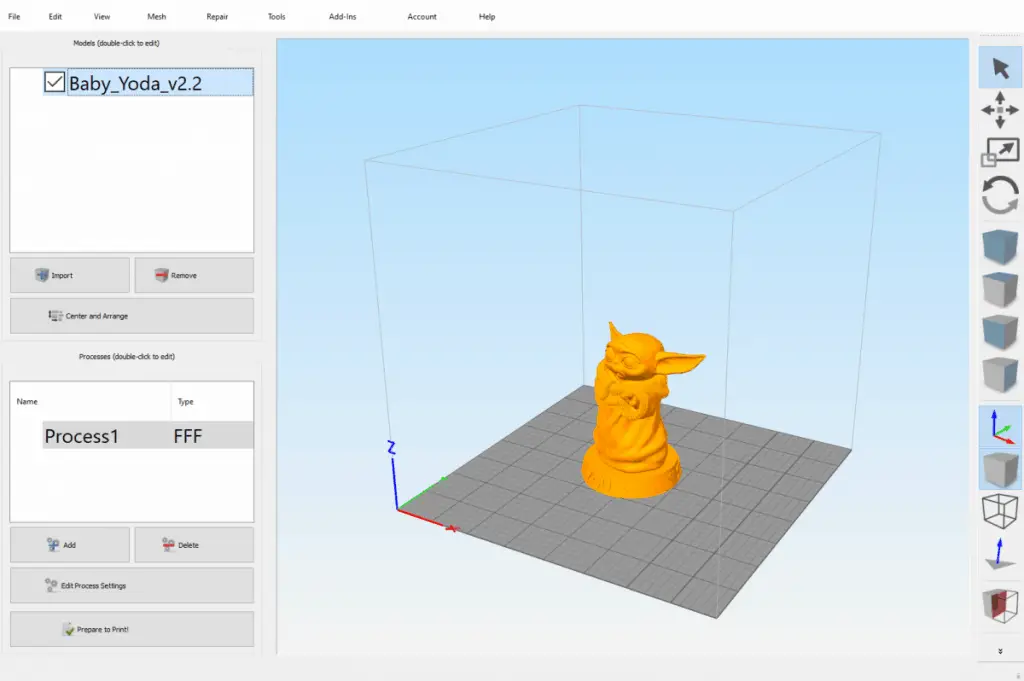 Sculptris
Sculptris is the software to pick if you want to make organic designs similar to molding clay. Sculptris is also very easy to use, and the features on it will take you from newbie to advanced in little time. If you've ever modeled with clay before, then you'll love Sculptris, because that's what it feels like.
Sculptris is great if you want to create objects and characters by stretching and molding shapes with your cursor.
Wings3D
Wings3D is another open source software that's excellent for beginners. It's been developed since 2001 and went through extensive upgrades between 2006 and 2012. Some useful features include inset, bend, sheer and plane cut.
Much like the other 3D printing software, you'll start off with basic shapes like cubes and spheres and mold them from there.
Blender
Blender is another open source software option. But with Blender, your imagination is your only limitation. Blender is an animation program which you can use to design models with a range of tools. Blender is so advanced that many film animations are compiled with it. If you want to have a look at what's possible in terms of design, just search "Movies made with Blender".
You'll need to gain some experience and go through a few tutorials to use Blender. As with any software, you'll get faster the more you practice. Blender houses a large community of followers that love sharing resources online about the software. That means you can get some first-class tips from expert users all over the world.
BRL-CAD
BRL-CAD offers another free to use opportunity, but this is a product that's intended for more advanced users. The US Army developed this software initially to support ballistic and electromagnetic analysis. The army modeled weapons systems with this software, and that's one reason why it's so advanced. BRL-CAD works well for solid modeling and allows you to edit using interactive geometry editing.
Originally, the downside to this software was its expense. Since its release, it's become a free, open-source tool that's excellent for 3D printing.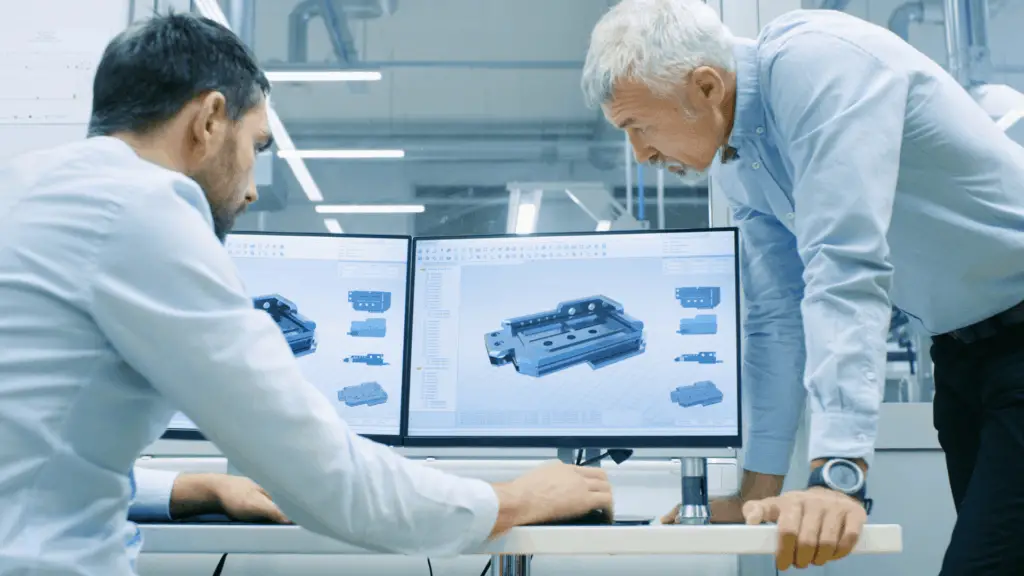 MatterControl 2.0
Another excellent free option for your 3D printing software is MatterControl 2.0.  If you need a CAD and 3D printing software for your desktop, then this software will give you everything you need in one program. If you download this free software, you'll still get plenty of great features.
You'll have software that allows you to directly control and watch your printing when you connect to it with a USB.
Slice STLs so you can export them to an SD card and print offline.
The software interface is incredibly easy for beginners.
Once you load up the software, you'll see your file browser and library of shapes on the left. You can import those objects and modify them for the STL you want to print, then design the structure. That means this free software program offers some excellent customization features.
This software also features some advanced printer settings if you want to configure your print jobs in a particular way.
You'll also get a slick viewer that helps you with all your 3D printing needs.
We love the Design Tools feature on this program, which allows you to design parts with ease. You can transfer these designs quickly into the slicer mode and print them. So, luckily, you won't also need a slicer program if you opt for this software. Since so many 3D printing programs typically only let you print or slice, it's nice to have something like MatterControl 2.0 that can do everything.
3DPrinterOS
If you want something that's free but offers a cloud-based solution, then 3DPrinterOS might just be the program for you.
This software will allow you to download the starter package for free if you want to try things out temporarily.
Upload and use G Code
Monitor your toolpaths
Watch your printing remotely
Use the forum for assistance
After you try out the starter package, you can decide whether or not to pay for the software. The monthly fee includes:
Printer sharing and permissions
Project sharing
Slicing
Customized customer service
There are other versions of 3DPrinterOS available as well if something more advanced is needed. However, the more advanced version is usually only required for businesses and education.
KISSlicer
While the acronym for this software means the "Keep It Simple Slicer," that's just referring to its ease-of-use and not the functionality. KISSlicer is a pretty impressive 3D printing software program that compares and has loads of support in the community if you need any help.
For most people, using the free version of the software should work just fine if you are only using one extruder. However, if you plan on doing more, then consider opting for the paid pro version of this software. With the pro version, you'll have access to multi-head printing. While this software is a bit more for the experienced, it still helps simplify the art of slicing with features like:
Profile Wizards, which gives you the ability to use 3D printer-specific settings.
Turning Wizards, which optimizes your software and printing program.
This software updates itself quite regularly and releases new versions often. So, as long as you keep up with the updates, you'll have the latest in 3D printer slicing technology.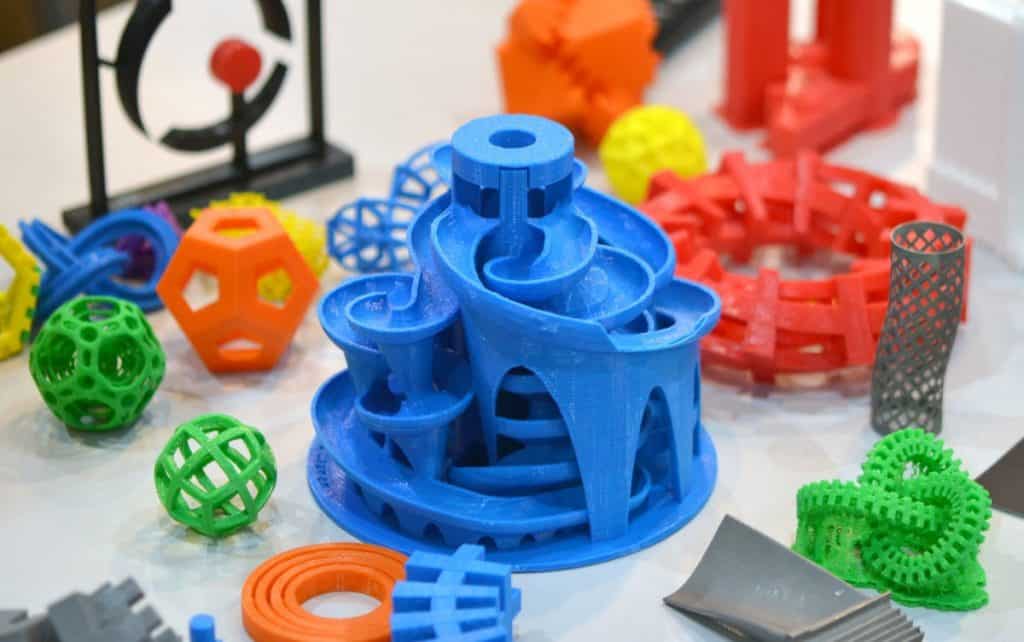 The Best 3D Printer Software
Cura and Simplify3D are two of the best 3D printing softwares for hobbyists. For engineers that need an enormous amount of information about their design, like how it will react to gravity or other forces, more advanced programs like Autodesk Fusion 360 are more appropriate.
So if you're just having fun while learning about a new technology, the best printing software would be a program that you can learn quickly. Even if you're not planning on designing anything, you'll still need to load up the models into the software for the instructions to go to the printer.
There are many programs available today for 3D printing software. Some of these programs are free, and some of them cost thousands of dollars.
How much you'll need to spend on 3D printer software depends on the product you are trying to manufacture. If you are creating something simple, you might be just fine with some free software. Also, if you are new to the game of 3D printing, you'll want to select software that's right for a beginner.
Related Articles
Recap
In this article, we discussed some software options that are commonly used today. As a recap, here is the list of the top software used with 3D printers that we covered in this article.
Tinkercad
SketchUp
Ultimaker Cura
Simplify3D
Sculptris
Wings3D
Blender
BRL-CAD
MatterControl 2.0
3DPrinterOS
KISSlicer
Make sure you check out my YouTube channel, and if you'd like any additional details or have questions, please leave a comment below. For more 3D printing articles click here.