The CR-Scan Ferret Pro offers wireless scanning with 0.1mm accuracy, anti-shake technology, and full-color capture. (Sponsored Content)
In recent years, 3D scanning technology has emerged from the specialized confines of industrial applications and high-end design studios to become an increasingly accessible tool for artists, educators, hobbyists, and even casual tech enthusiasts.
Once a technology only accessible to professionals with specialized training, 3D scanners are now just a click away for anyone interested in capturing the nuances of physical objects and rendering them into high-quality digital models. This democratization of 3D technology has made way for unprecedented levels of creativity and innovation in numerous fields like art, healthcare, automotive design, and cultural preservation.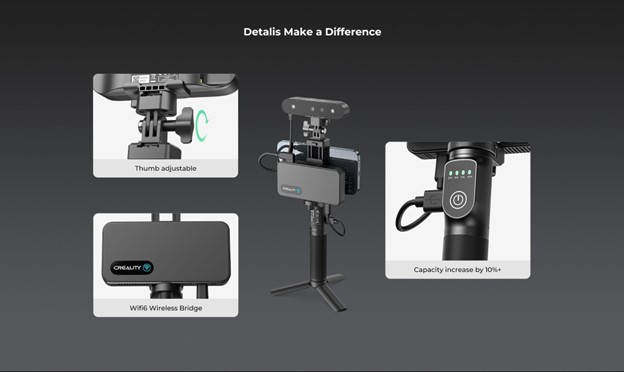 While various companies have entered the ever-growing market, Creality has been at the forefront of making 3D scanning an everyday utility. Known for its commitment to combining high-end features with user-friendly interfaces, the company has a track record of producing 3D printers and scanners that offer a potent blend of precision, ease of use, and affordability.
After the success of the CR-Scan Ferret, Creality is taking another giant leap with its Pro model, bringing next-level features to the mainstream market.
The Creality CR-Scan Ferret Pro is a next-level 3D scanner that offers unparalleled features such as wireless scanning, 0.1mm accuracy, and compatibility with multiple platforms. From casual enthusiasts to professionals, this device aims to simplify and optimize the 3D scanning experience.
Let's take a deep dive into what makes this scanner an intriguing option for hobbyists, pros, and more.
Creality CR-Scan Ferret Pro: Features
Here are some of the standout features that put the CR-Scan Ferret Pro high on the consumer 3D scanner pedestal.
Anti-shake Tracking
You don't need steady and overly cautious hands to achieve flawless scans. Thanks to Creality's new one-shot 3D imaging technology, the CR-Scan Ferret Pro mitigates the shake and wobble that often ruin 3D scans. This feature dramatically increases the scanning success rate, offering an advantage to users who are new to 3D scanning or in environments where stability is a challenge.
Scan Dark and Metal Objects
Scanning darker or metallic objects usually requires a scanning spray to capture the details. Not anymore. The CR-Scan Ferret Pro allows you to scan cars, car parts, and other such materials without the need for additional sprays or coatings. Just mark the surface, select the texture mode, and voila—your 3D model is ready.
Outdoor Scanning
This device isn't restricted to the lab or your living room. Its advanced optical technology and intelligent algorithms enable high-performance scanning even in bright sunlight conditions (<30000 lux). That means you can take your CR-Scan Ferret Pro for an outdoor adventure and not worry about the environmental elements affecting your scans.
24-bit Full-color Scanning
Say goodbye to monochromatic 3D models. The built-in 2MP high-resolution color camera captures 3D models in their original colors. A unique face mapping algorithm further refines facial scans, restoring intricate details and producing vivid, lifelike models.
High-Quality & Fast Scanning (ASIC Chip)
Offering two distinct modes, the device ensures both accuracy and speed. High-Quality Mode boasts up to 0.1mm accuracy, capturing even the most minute details. On the flip side, Fast Scan Mode, equipped with a 3D Imaging Specific ASIC Chip, provides efficient scanning of medium and large objects, reducing the performance requirements on your computer or phone.
WiFi6 Wireless Bridge
The scanner uses the latest WiFi6 technology, offering a connection three times faster than its predecessor, WiFi5. This ensures smoother data transmission and enhances the scanning experience, particularly when high-precision scanning is involved.
Easy to Get Started
One-click scanning means that even novices can produce stunning 3D models without diving into complex software. The user-friendly interface makes the journey from scanning to model generation seamless.
Compact and Portable
Weighing just 105g, this lightweight device can be your constant companion. Whether you're in a museum or on a hiking trail, the CR-Scan Ferret Pro lets you scan objects on-the-go and keep them as digital keepsakes.
Beyond the Scan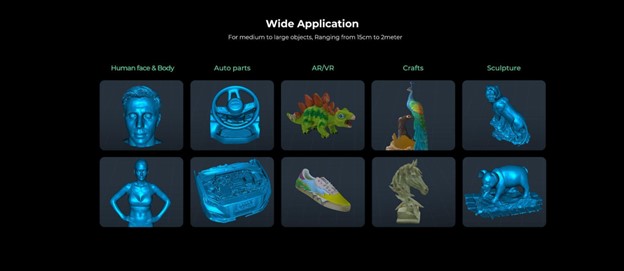 The scanner offers an all-in-one scanning and editing experience, with fast model sharing and compatibility with leading 3D software. It supports multiple formats, including STL, OBJ, and PLY, and works across various operating systems like iOS, macOS, Android, and Windows.
How Does it Compare to the CR-Scan Ferret 3D Scanner?
So, how does the CR-Scan Ferret Pro distinguish itself from the base model, the CR-Scan Ferret?
Both models offer fast scanning, but the Pro model's WiFi6 capabilities ensure that data collection is even faster and more efficient. The Pro also takes it up a notch with its one-click functionality, making it easier to get scanning.
Users will also enjoy a longer runtime of 2.5 hours with the CR-Scan Ferret Pro. Functionally, the anti-shake tracking feature on the Pro leads to higher success rate for scans. Additionally, the Pro model enhances the camera feature with a unique face mapping algorithm for even more detailed scans.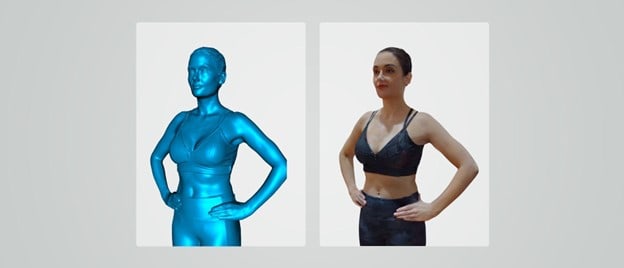 Buy the CR-Scan Ferret Pro 3D Scanner at a Low Price
Priced at $449, prospective customers will surely be intrigued by the pro features and modest price tag – but Creality is offering early adopters a special limited time discount. The CR-Scan Ferret Pro is being unveiled alongside a special pricing window of $359 up until September 29, 2023, which will then rise to $379 until October 9, 2023.
Creality has also announced that two customers who purchase the CR-Scan Ferret Pro before the deadline of 23:59PM (EST) on September 29 will be randomly selected for a 100% refund on their purchase. This refund will be officially announced in an October livestream.
Building off the great features found in the base model, the Creality CR-Scan Ferret Pro is more than just another 3D scanner; it's a tool that unlocks a world of possibilities, from enabling rapid prototyping to immortalizing a moment in 3D form. With its wide array of features, high precision, and user-friendly interface, it's a formidable tool for hobbyists, pros, and small businesses looking to level up their 3D scanning capabilities.
Related Articles
Make sure you check out our YouTube channel, and if you would like any additional details or have any questions, please leave a comment below or join us on Discord. If you liked this article and want to read others click here.