The first few years of your child's life are the most important in terms of how they interact with the world. It's easy for them to process information and form behaviors that will remain for the rest of their lives.
Introducing the latest technologies to your children at an early stage will give them a head start that will grow exponentially as they get older. 3D printers are already in schools all over the world because authorities in the educational system know that the technology has a bright future.
Understanding the basics of 3D printing is almost as important as it was understanding computer basics back in the 80s and 90s. The children who embraced the technology back then are far ahead of their schoolmates who didn't.
Imagine introducing 3D printing to your child before the school does. How do you think they'll perform compared to the other kids who don't have a 3D printer at home? They'll probably end up teaching the teacher a few things.
Working with 3D print designs within the slicing software will help them with all aspects of mathematics. It also teaches them about construction/engineering and how different materials react in various situations.
Besides all the technical knowledge they'll gain, it can also set their imagination and creativity free.
But 3D printers are expensive. Most people can't just go out and spend $1000 on an educational tool for their child. That's why I've carefully selected a few of the best options at very affordable price points. Even though they're well priced, they still produce amazing print quality. I also selected these printers with the safety of your child in mind, as I will explain below.
There are a few things to look out for when buying a 3D printer for a child. First, I'll go through those features and then we'll look at my favorite 3D printers for kids.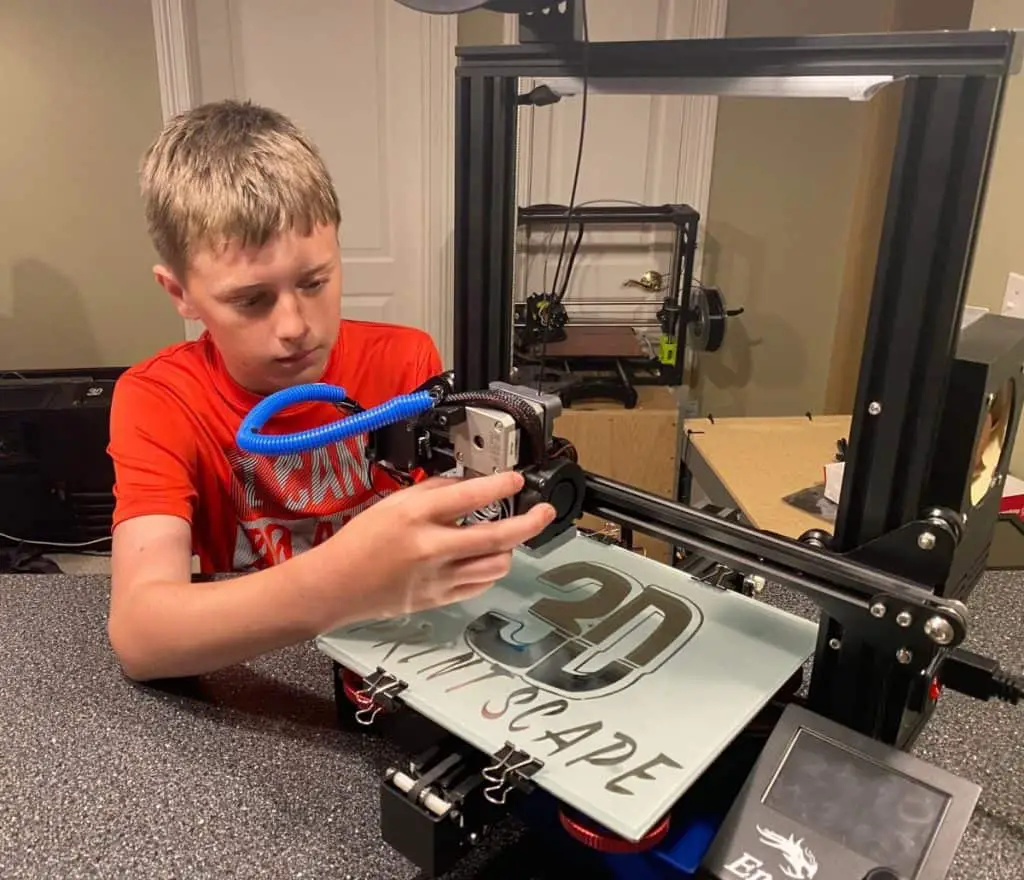 How To Choose A 3D Printer For Kids
You don't need to buy an expensive printer for your child to use. Whether it's a $5000 printer or a $200 printer, the fundamentals of operating it are the same. The price only differs because of the print quality. For hobbyists and children, the print quality of all my suggestions are perfectly adequate to create beautiful 3D models.
The printers on this list are durable and will last many years, and if your child is still using it in a couple of years, you could look at getting them an upgrade at that point.
For children, look for 3D printers that have low maintenance and are easy to operate.
Safety Features
Safety features are essential. Printers that have cold beds and enclosures are best for young children. The cold bed prevents burning, and the enclosure prevents fiddling with the print nozzle while it's working.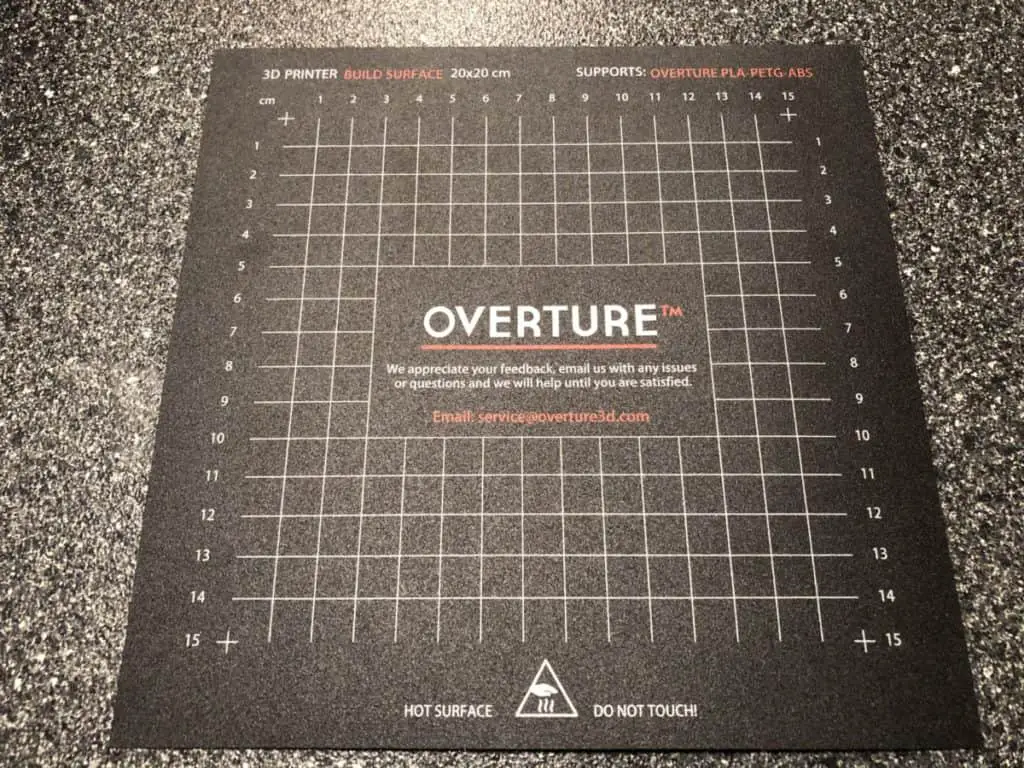 Easy To Use
There's a fine line between interesting and overcomplicated, especially for kids. So it's best to find 3D printers that are easy to operate, they can learn the more technical stuff later. Most of the printers here have child-friendly slicing software to get them started and then professional version for when you want to get more technical and detailed.
Durable And Low Maintenance
Anything that needs to last more than a few months in children's hands needs to be strong. The printers in this article are made of durable plastic, metal and glass.
Reasonable Price
Considering that they'll only use it for a couple of years before wanting to upgrade, it's no use going for high performance in the beginning. Test out the waters with the lower price range as per this article.
You can base your decision for an upgrade on how much they use the smaller printer.
After much deliberation, here are my favorite 3D printers for kids along with why I chose them.
FlashForge Finder 2.0
This 3D printer is truly made for kids. It comes ready to use straight out of the box. The software that it uses is very easy to understand. It's fully enclosed around the sides and all electrical components are sealed. This is a printer that's well suited for kids 7 to 11 years of age because of its safety features and ease of use.
I advise printing an external spool holder because the spool area inside this printer is a bit smaller than a standard spool. This is the external spool holder on thingiverse.com that I recommend you print.
Without a heated bed, it's limited to printing PLA, but that's all your child really needs. PLA is one of the most popular filaments because of its ease of use and non-toxic characteristics.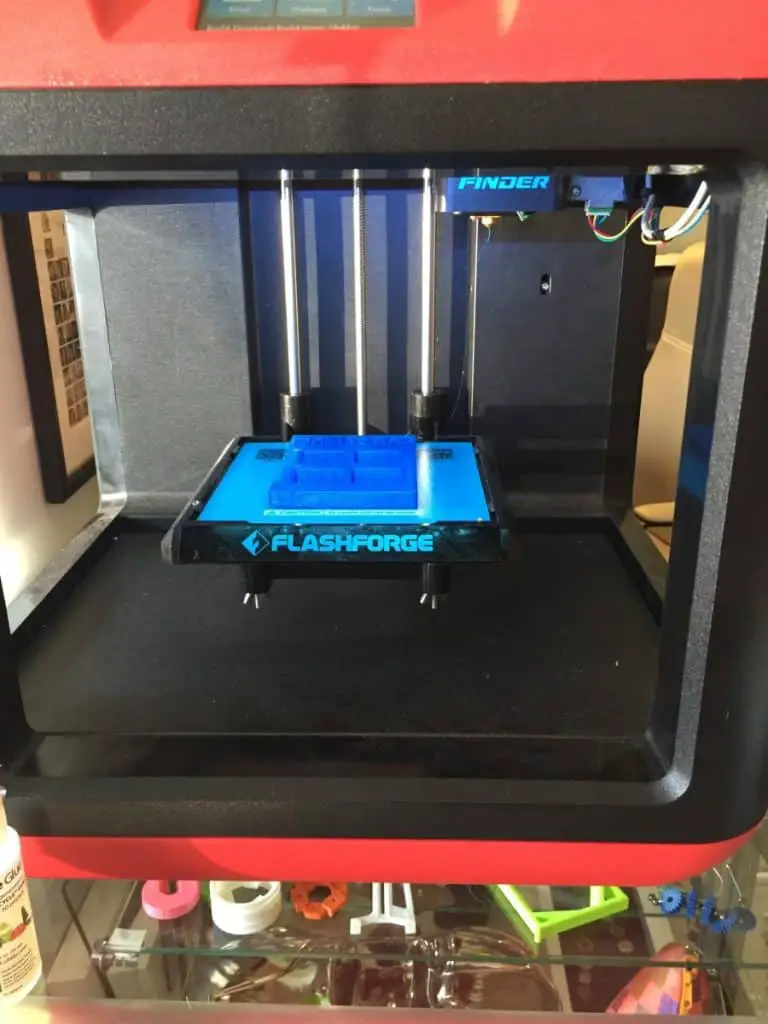 Main Specifications
140 x 140 x 140mm Build volume
1.75 filament
Cold bed for safety
Removable bed
Touch screen
Enclosed around the sides
USB, Wi-Fi, Cloud support
Check the Finder 2.0 out on Amazon for the latest pricing.
QIDI TECH X-Maker
The X-Maker was released in 2019 and with the price dropping substantially since then, it competes well with others in its range. A filament holder is included in the package, just extend the two aluminium posts at the back, add your spools to the long bar and put it onto the posts for the spools to feed the printer.
The slicing software that comes with this printer has two variants, child friendly and professional. The child-friendly version is more simplistic and has benchmark prints ready to go.
The package comes with video guides to help you get started as easily as possible.
One concern I have with this printer is the voltage selector on the left side. If you accidentally flip that switch, your power supply will be damaged beyond repair. I would create a cover for that so your child doesn't even see it.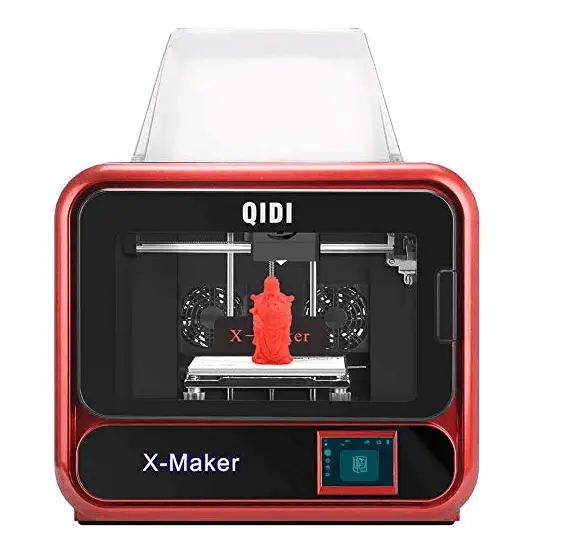 Main Specifications
170 x 150 x 160mm build volume
1.75mm filament
Heated bed
Removable bed
Fully enclosed
Color touch screen
USB, WIFI, Ethernet
These are the current deals for the X-Maker on Amazon.
Monoprice MP Voxel
The MP Voxel is another fully enclosed 3D printer. It operates with a heated bed so you have multiple material options as opposed to a cold bed that only really works with PLA. The Voxel has a flexible, removable build tray so that you can easily remove prints.
The most impressive feature that sets this printer apart from the rest is its quick-change nozzle system. You don't require any tools to swap out different nozzles to the printer.
There's plenty of support for different filament materials including ABS, PLA, Wood Fill, Copper Fill, Steel Fill, and Bronze Fill.
Calibration has never been easier now with a "one-touch-calibration" feature on the touch screen.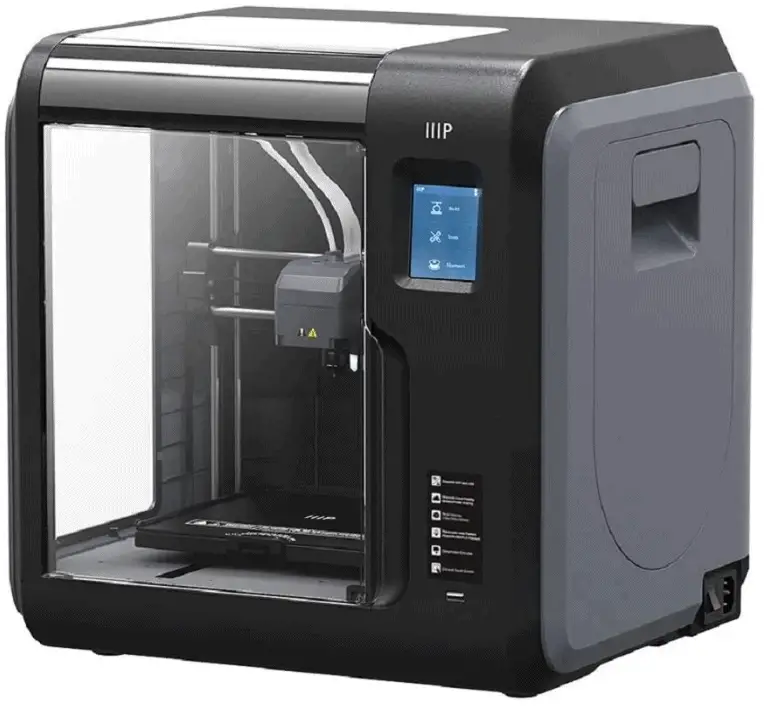 Main Specifications
150mm x 150mm x 150mm build volume
1.75mm filament
Heated bed
Removable bed
Fully enclosed
Touch Screen
8GB internal memory
Wi-Fi radio with hotspot.
Built-in camera
Here are the latest deals for the Voxel on Amazon.
Creality Ender-3 FDM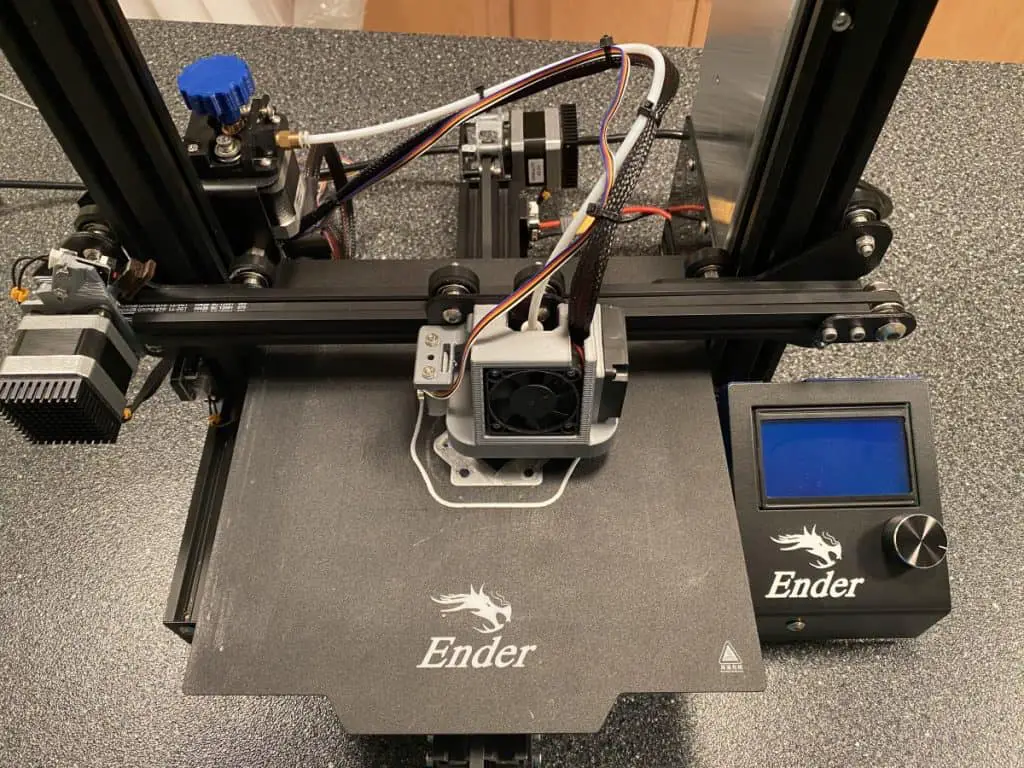 The Ender-3 is a popular choice for most people just starting out with 3D printing. This is because it comes in at an astonishingly low price for the performance it provides.
Compared to the enclosed printers on this list, the Ender-3 has a larger build volume to print bigger objects. It's compatible with PLA, ABS, and TPU filaments.
Without a printer enclosure, supervise your child to make sure they don't interfere with the print if they're still young. But for ages 12 and upward, this is one of the best 3D printers available.
You will need to assemble it but luckily there are loads of step-by-step videos on how to do that. Besides the manual, which is also very clear and easy to follow.
Make sure the voltage selector is set to 115 if you're in North America or you will ruin your power supply.
This is the lowest priced machine on the list but it's my favorite for anyone over the age of 11. With a bigger build area and high-level performance, you won't be limited in the ways you are with the other printers. You'll be able to print bigger, more detailed objects.
It will take you a few hours to set up, but you'll get to know the machine on a detailed level which will help for any fine tuning down the road.
Main Specifications
220 x 220 x 250mm build volume
1.75mm filament
Non-removable print bed
Heated bed
For more information on this printer, see the Ender-3V2 here on Amazon.
What Age Is Appropriate For 3D Printing?
An appropriate age for 3D printing is 8 years. On average, an 8-year-old will understand and operate all aspects of a 3D printer. Adult supervision is required, but for the most part, they should be able to handle everything by themselves.
At younger ages, you can show them what you're doing with the printer and they'll soak up the information like they do everything else. You could start showing them what you're doing with the printer from as early as 3 to 4 years of age.
What Can Kids Make With 3D Printers?
Kids can make toys with 3D printers. They can also print their favorite characters from movies and tv shows. They can print animals, cars, army men, and almost anything else they can imagine.
Here are some awesome toys and other gadgets for your children to print: thingiverse.com.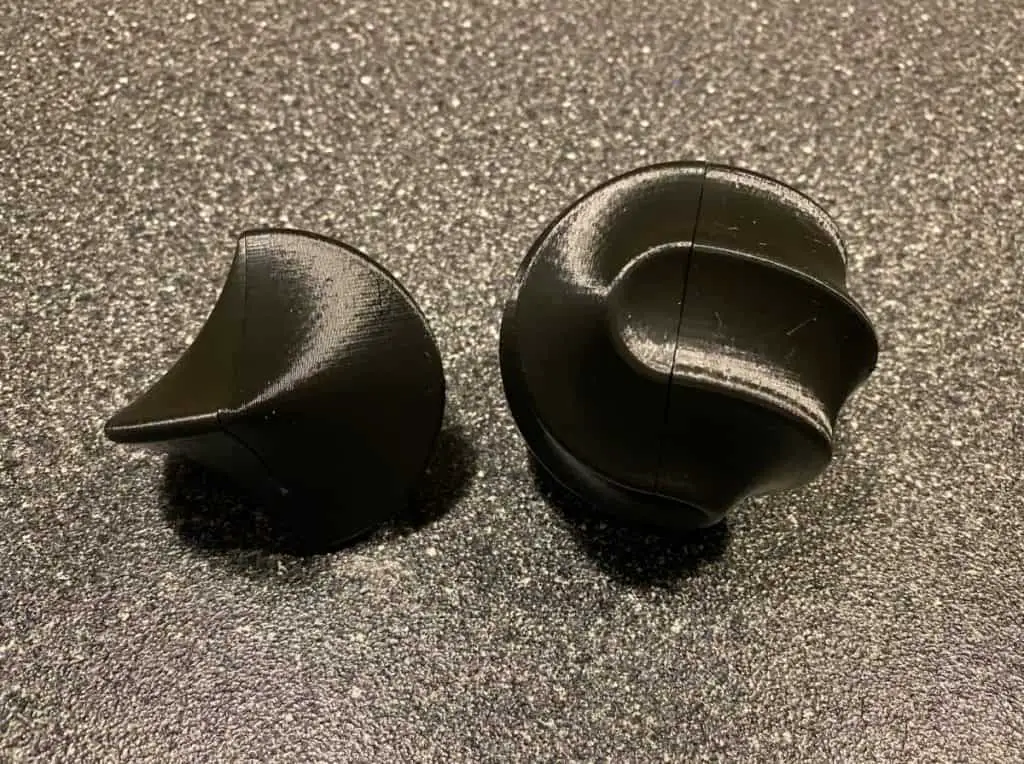 What Is The Best 3D Printer For A 12-Year-Old?
One of the best 3D printers for a 12-year-old is the Creality Ender-3. It's a well-priced printer with high-end features like an industrial-grade circuit board, 0.4mm nozzle diameter, 0.4 minimum layer thickness, built-in stabilization, and an accuracy of ±0.4mm. This all translates to high-quality 3D prints.
It doesn't have an enclosure but that won't be high-risk for a 12-year-old. It can print with PLA, TPU, and ABS. This opens up some options in the designs as each of these materials has different characteristics.
The Ender-3 is cheaper than most of the other printers on this list because it doesn't have the extra safety features like an enclosure or cold bed.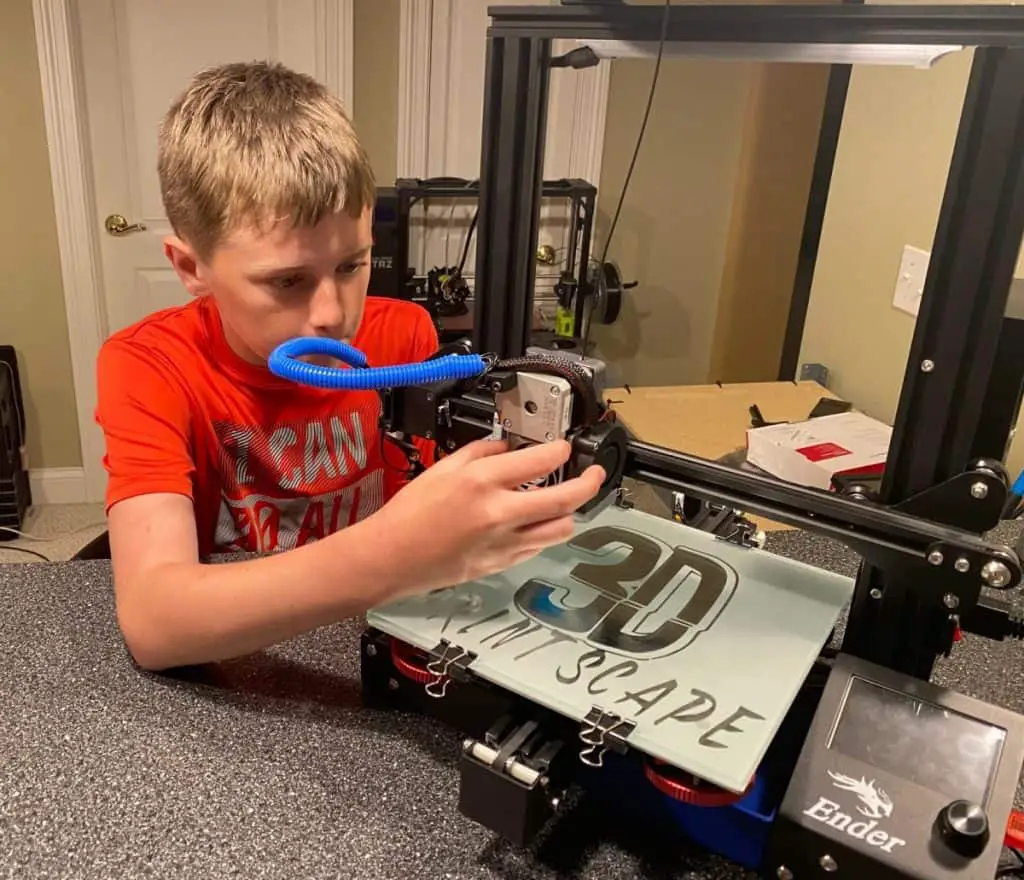 Related Articles
Conclusion
If you're buying a 3D printer for your child aged 7 to 11, go for the Finder 2.0, X-Maker, or MP Voxel depending on your budget. All three have safety features to prevent any mishaps. If your child is older than 11, the Ender-3 is a better choice because of its high print quality and large print volume.
Most of the 3D printers I selected for this list have enclosures and no need to assemble. This not only makes it quick to get started, but it also reduces maintenance costs because the design is so solid, perfect for kids.
Slicing software specifically customized to appeal to children is also a big bonus. This allows them to learn the basics quickly but still have the option to use advanced software later on.
In the end, even if you choose the cheapest 3D printer, your child will benefit greatly from it and put them miles ahead of the rest of the class.
Make sure you check out our YouTube channel, and if you would like any additional details or have any questions, please leave a comment below or join us on Discord. If you liked this article and want to read others click here.