I purchased a Polymaker PolyBox filament storage box from Amazon about a month ago and wanted to write up a review in case you are looking to order one, or any other storage box. If you're in the market, I would highly recommend taking a couple of minutes to review my feedback/thoughts, and feel free to post a comment with any questions you may have.
Why I Purchased a Filament Storage Box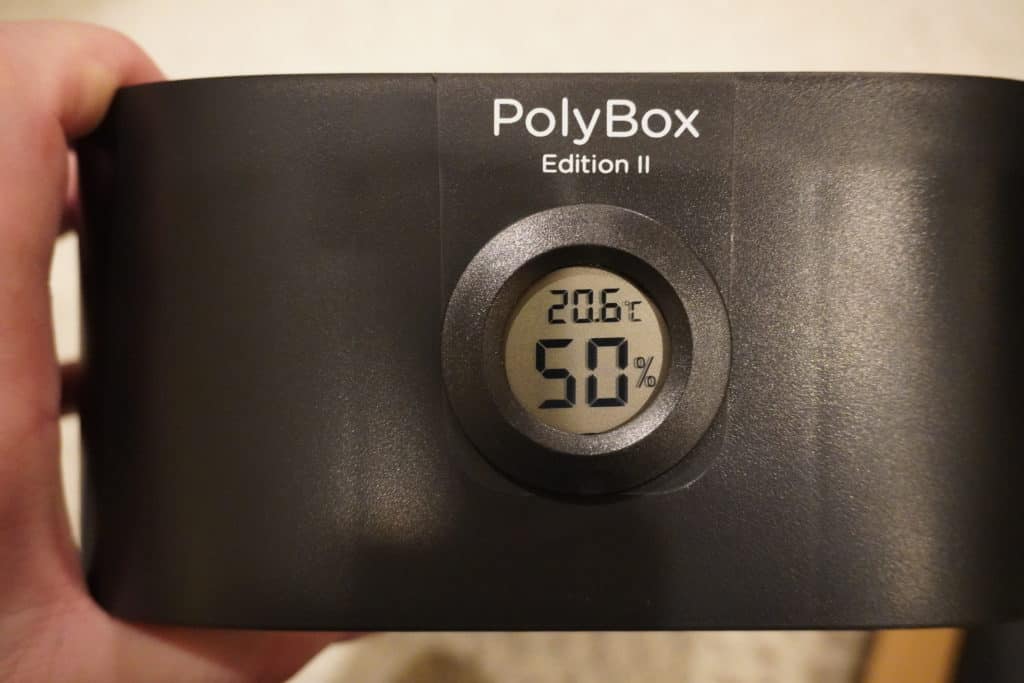 I purchased the PolyBox (on Amazon) for two reasons, to control the humidity around my filament and to move the filament off the printer gantry which is where my printer had it mounted. I live in Ohio and like many other areas in the world, we have humidity problems. The average humidity tends to be in excess of 70% per the Forbes article "Oh the Humidity".
My 3d printer is set up in my basement where I run a dehumidifier to keep the humidity around 50% but that's still a lot of moisture for the filament to absorb. Keeping your filament dry can help prolong the life of it and prevent some common issues that are caused by its absorbing moisture. You can check out the article I wrote on filament storage options here if you would like to learn more.
Unboxing
Included in the Box
The Polymaker PolyBox comes with everything you need to get started, minus the printer and filament of course.
The PolyBox was double boxed, it had a generic cardboard box with a picture and logo on the outside and a nicer black box on the inside. If you are going to give this as a gift, I would take it out of the standard cardboard box and wrap the black one. Once opened you can see that they spent a little extra money on the packaging to help make sure it didn't get damaged in shipping. The entire PolyBox was wrapped in foam and all the accessories were taped in place.
Items Included
The Polymaker PolyBox
2x Desiccant Sachets 100g (Silica Gel)
Thermo-Hygrometer with battery
4x Steel rollers with bearings
~5ft of clear tubing to run filament through
6x Rubber Plugs
Front and back grid to cover the Desiccant Sachets
Overall, I had no complaints about the packaging. The only thing I would point out is to make sure you don't lose the battery for the Thermo- Hygrometer like I almost did, gotta love kids.
Setup and Usage
The PolyBox is very easy to set up and use. All you need to do is put the battery in the Thermo-Hygrometer, put the desiccant sachets on the bottom of the box (one in the front and one in the back), put the grids in place, set up the rollers (bearing have a slot they slide into), and add your filament. I spent maybe 15 minutes setting everything up.
You will need to decide where to put the PolyBox and how you will run the filament from it to your 3D printer.  You can set up the PolyBox to feed the filament from either the side or top, which is one of the reasons I purchased this one. Most of the options I looked at on Amazon only had a top feed and I wanted to set the PolyBox up on a shelf above my printer so I needed the side-feed.
Once you decide how you want to run the filament you will need to run the clear tubing through the rubber plug to where your printer is. I ended up only using about a foot of the tube but usage will vary based on the setup.
You have the option of running one or two 1kg spools or one 3kg spool. I have only had 1kg spools in it but there is plenty of space for the 3kg ones. Switching out the spools is easy but it will raise the humidity in the box so only do so when you need to. Every time I open the box the humidity jumps up by 15-20% and takes a couple of hours to get back down below 15%.
When I first put the filament in the PolyBox the humidity was at 50%, after about 12 hours (I checked the next morning) it was down to 10% and has stayed there since. Once the Silica Gel absorbed all it can, you will see the humidity start to go up slowly. Once the humidity is over 15-20% I would recommend replacing the gel.
Other Options
There really are not many other options available but if you think the Polybox won't work for you or is too expensive, here is an overview of the two main competitors on Amazon.
Katamco 3D Printer Storage Box – On Amazon
Pros

Cheap
Fully assembled
Includes roller bearings
Includes Hygrometer 

Cons

Only supports a single 1kg roll of filament
Can only work as a top feed if you are using the rollers
Seems cheaply made
What's in the box?
Fully assembled 3-D Printer Filament Box
Dual greased bearing axles
Hygrometer with battery
Two 50 gram packets of desiccant
36″ filament guide tube
If you're just looking for a cheap box to get you up and running this the one for you. It has everything you need to keep your filament dry, comes fully assembled, and is very affordable.
eSUN eBOX – On Amazon
Pros

Looks nice
Can measure the weight of the filament
Runs on AC power instead of batteries like the competition

Cons

Only supports a single 1kg roll of filament
Questionable reviews
What's in the box?
Filament Box
Power Adapter
Tubing (unknown length)
User Manual(English & Chinese)
The price on this box seems to vary based on who the Amazon seller so makes sure to look around to find the best deal. If you want to track how much filament each print uses or how to know exactly how much you have left then this may be a good option for you. You could also just weight the print when it's done and visually look at the roll to see what's left so you will need to be the judge on if this feature is valuable to you or not.
That said, based on reviews it looks like there may be a QA issue in the factory where these are built so you may end up having to send it back for a new one. It does come with free returns and is prime so you shouldn't have any issues there.
Conclusion
Overall the Polymaker PolyBox (link to Amazon) filament storage box is a solid option if you are looking to keep your filament dry while it is connected to your printer. So far everything has worked as advertised and I have been pleased with the purchase. That said, this is not the cheapest option available so if you are only looking at cost the PolyBox may not be the right option for you. Personally, I was ok spending a little more to get the feed options and store multiple rolls of filament.
Make sure you check out our YouTube channel, and if you would like any additional details or have any questions, please leave a comment below. If you liked this article and want to read others click here.